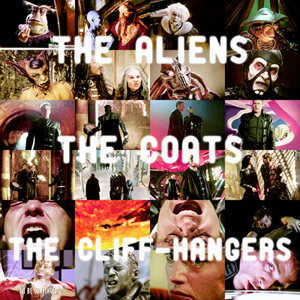 the aliens.
farscape aliens are
alien
. all but the last three images are from season one alone. i had to include that little thing from 'beware of dog,' and the scarrans, possibly my favourite aliens (aside from the moya crew) on the show. scarrans are a thing of beauty (and horrible evilness!)
"...answer him quickly. you know how luxans can be."

- - -

"i am rygel the sixteenth, dominar to over 600 billion people. i don't have to talk to you!"

- - -

"and there's life out here, dad. weird, amazing...psychotic life. and uh, in technicolor."

- - -

d'argo: "sebacean heat delirium."
john: "what?"
d'argo: "sebaceans lack the gland necessary to regulate extreme thermal increases."
john: "crais and those other bastards chasing us are cold-blooded? literally?"

- - -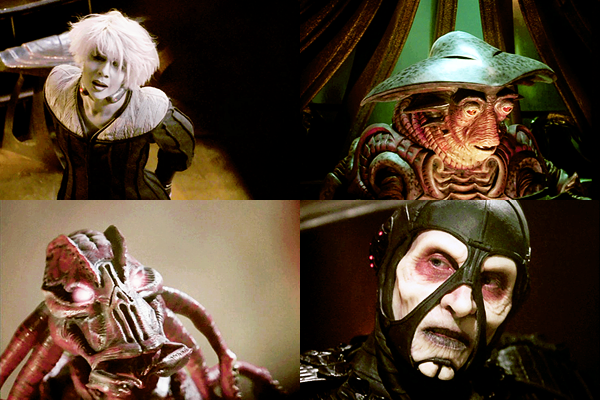 john: sparky. how's my favorite hynerian?"
[rygel can't speak]
d'argo: "even i am pleased to see you."
[rygel continues choking]
d'argo: "are you, are you not well?"
john: "frog in your throat? need a hynerian hymlich?"
[john does hymlich on rygel]
rygel: "i'll be fine."
[sees aeryn and starts again]
rygel: "slight case of the intons."
john: "what?"
aeryn: "it's a hynerian airway seizure caused by very strong emotions."
john: [laughing] "i didn't know you had strong emotions in you, sparky."
d'argo: "other than greed of course."

- - -

john: "they spit fire? how come no one tells me this stuff? how come no one tells me they spit fire?"

- - -

john: "god-like aliens. Boy, do i hate god-like aliens. i'll take a critter over a god-like alien any time..."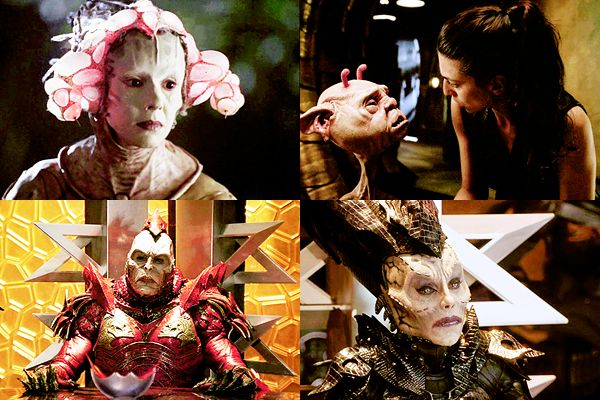 d'argo: "see plant, kill plant."
john: "that's got to be on the luxan coat of arms."

- - -

john: "you saw a creature? what kind of creature? the kind we eat? or the kind that eats us?"

- - -

the coats.
i have a coat/jacket fetish. this show panders to the fetish with great enthusiasm.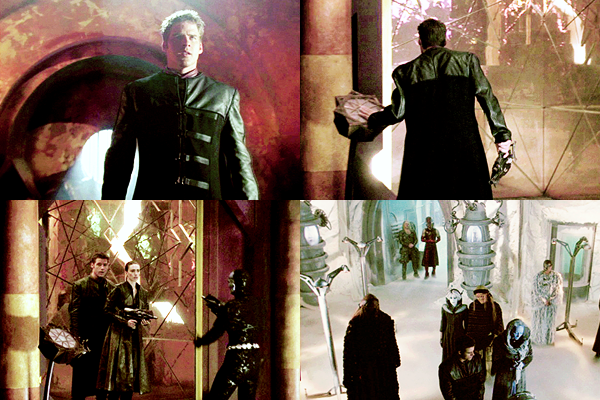 the cliff-hangers.
the people who ran the farscape show are
mean
(matched only by bsg and joss, imo), don't want a massive cliff-hanger at the end of each season? too bad. don't want cliff-hangers during multi-parters? too bad. don't worry, they are really, really good cliff-hangers. they succeed in their purpose: OMG how could they frelling end it there?!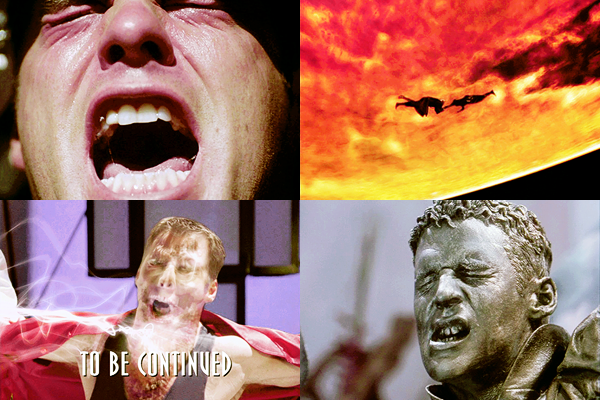 scorpius: "crichton will tell us."
[fade on john's screaming face]

- - -

john: "it may not matter. d'argo's unconscious."
[cut to shot of d'argo's hand. d'arg's fingers open and john's good luck charm floats off into space. cut to shot of john and d'argo silhouetted against the exploding moon. freeze shot.]

- - -

[random guard points something small at john and an energy beam shoots at him, hitting him on his chest below his neck. john is attempting to writhe in agony [difficult because of the two other guards holding him] and the energy beam seems to make heatwave ripples in his skin. finally we can almost see some of his skull beneath his flesh]

- - -

[john gives a whoop of triumph and gives a peace sign with both his hands. the machine turns on, and john's whoop of triumph turns into an 'AAAH!' of pain. he falls mostly to the ground and becomes a statue in the very dignified leaning-backwards-on-one-hand-the-other-hand-shielding-your-face position with a pained look on his face. there is polite applause. d'argo sighs. The empress smiles. Close up of john's scrunched up eyes and half open mouth]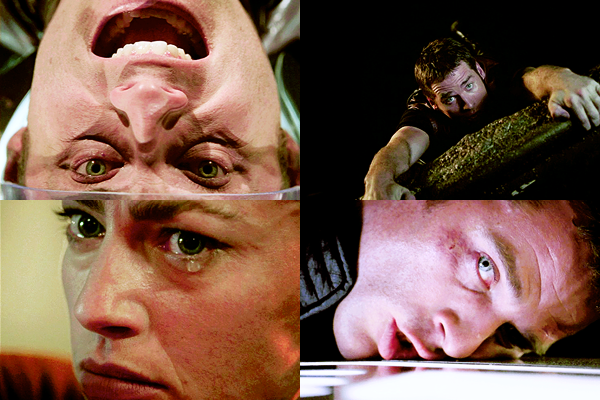 scorpius: "you've cost me much. and i do not suffer disappointment well. i condemn you, john crichton...to live! so that your thirst for unfulfilled revenge...will consume you. goodbye."
[as scorpius leaves, john is seething. unable to move, he begins to scream in anger.]

- - -

john: "aeryn! hey!"
[john, hanging from the edge, looks up at the serpent, giving us his best 'i'm kind of terrified right now' face.]

- - -

[he smiles slightly as shot cuts back to closeup on aeryn, that single tear suspended from her left eye, trembling as it prepares to fall. freeze on close-up.]

- - -

scorpius: "you give me what i want, or i swear...i will keep you alive so that you can witness your home worlds destruction!"
[freeze on john's face as it's squashed into the table]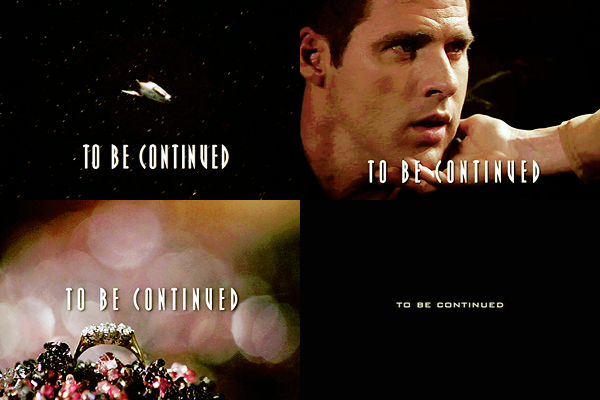 john: "you have got to be kidding me."
[he turns and looks out the forward canopy again as the shot pulls back, shot continues to pull back until the module is a tiny speck in the distance amidst a sea of stars.]

- - -

harvey: "you have to go back for scorpius. tell her john, tell her! you must rescue scorpius. tell her!"

- - -

[unmanned, the boat bobs gently on the sea. inside, the heap of shards holds, in its center, john's mother's ring.]

- - -

- - -

part 1: john, harvey, crack

part 2: aliens, coats, cliff-hangers

part 3: multi-parters, continuity, laughs

part 4: otp

part 5: mini-series, rewatch, picspams